Summer Blast Drawing & $hare the Pot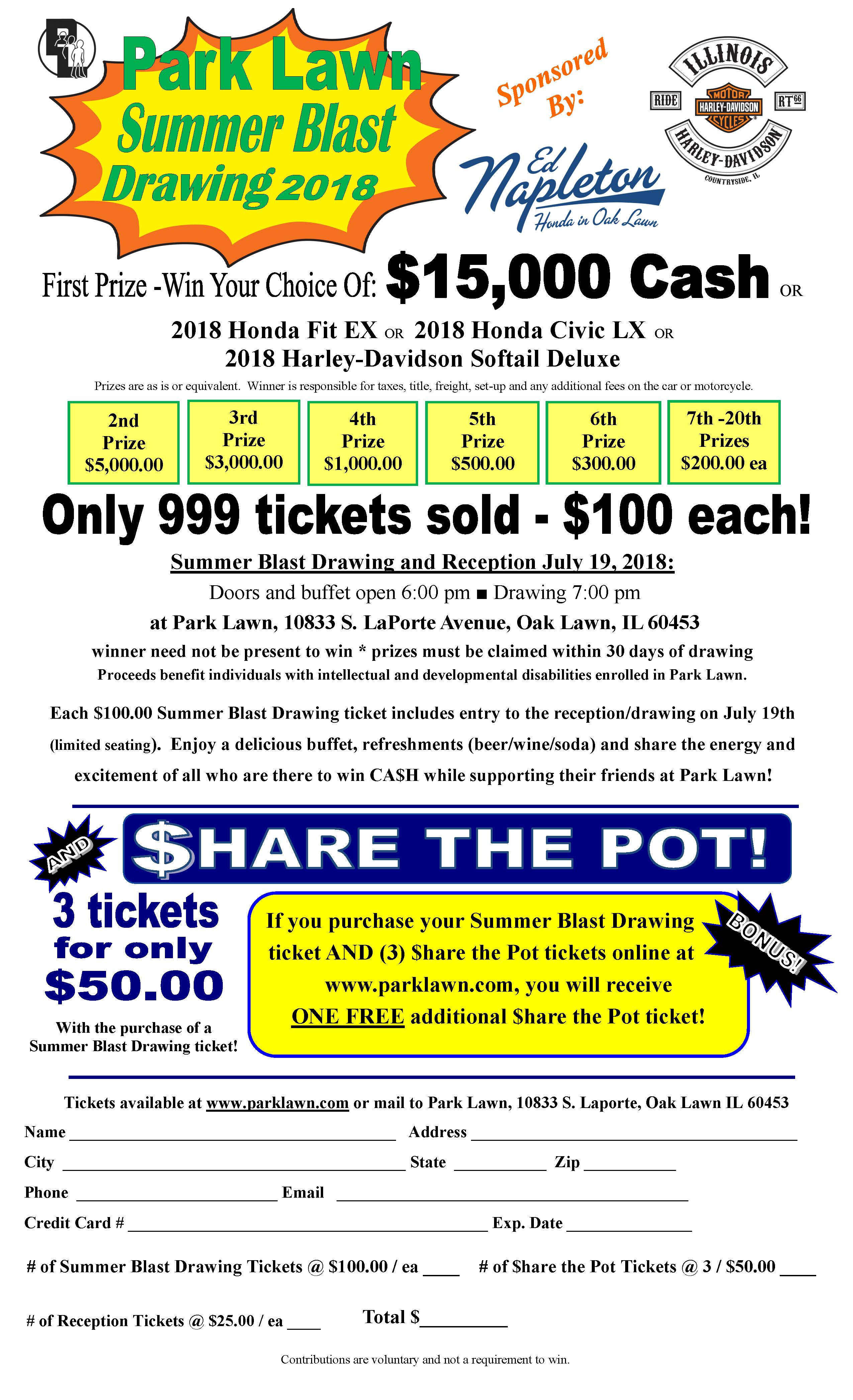 Thank you to everyone who participated in our Summer Blast Drawing & $hare the Pot. The winners are:
1st Prize: Rich Mrotek #674
2nd Prize: Vicki Scanlon #883
3rd Prize: Ronald Vezing #314
4th Prize: Tammy Perry #43
5th Prize: Janet Roberts #415
6th Prize: Randy & Donna Shaw #939
7th Prize: Joe Hapak #381
8th Prize: Les Murschell #891
9th Prize: Frank Poppie #635
10th Prize: Mary Dvoratchek #869
11th Prize: C. Dinolfo #759
12th Prize: Brad Sikora #011
13th Prize: Carlos Flores #792
14th Prize: Amy Gallagher #784
15th Prize: Greg & Cindy Mindenan #303
16th Prize: Kelly-Cannon-Logue-Logue #243
17th Prize: Crestwood Florist #149
18th Prize: Larry Vandoske #275
19th Prize: Mark Dynia #004
20th Prize: Melissa, Jason, Lisa Ruesch #989
$hare the Pot: Kelly Lavko #154708 $12,500
Summer Blast Drawing & $hare the Pot!
**** ONLINE SALES HAVE CLOSED. TO PURCHASE TICKETS YOU MUST DO SO IN PERSON AT THE EVENT OR CALL THE DEVELOPMENT OFFICE AT (708) 425-6867. ****
First Prize - Win Your Choice of $15,000 Cash or 2018 Honda Fit EX or 2018 Honda Civic LX or 2018 Harley-Davidson Softail Deluxe
Raffle Tickets $100 each - Only 999 tickets will be sold!
Doors open 6:00 pm ▪ Drawing at 7:00 pm
Ticket Admits One (Buffet/Beer/Wine) ▪ Additional Reception Tickets $25.00 each
Don't forget… $hare the Pot 3 for ONLY $50.00
(3 for $50.00 with the purchase of a Summer Blast Drawing Ticket)
If you purchase your Summer Blast Drawing Ticket AND (3) $hare the Pot Tickets ONLINE at www.parklawn.com you will receive ONE FREE additional $hare the Pot Ticket!
Proceeds benefit Park Lawn-serving individuals with intellectual and developmental disabilities since 1955.
Winner need not be present - Prizes must be claimed within 30 days of the drawing.
Thank you to our sponsors Illinois Harley-Davidson and Ed Napleton Honda in Oak Lawn - Chicago Honda Dealer!